Javier Clavere
Javier Clavere is a polymath navigating the world of music, semiotics, multiculturalism and diversity, as well as keyboard studies, sacred music, and electronic music.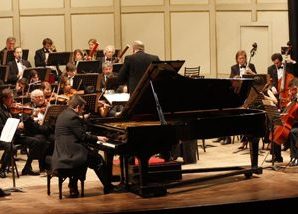 Pianist
"He has performed in many prestigious concert series across the United States, South America and Europe performing with orchestras, in solo recitals and chamber music. In 1994 he was privileged to perform on Vladimir Horowitz's piano featuring the famed pianist's instrument, organized by Steinway and Sons. He was artist in residence of the Utah Arts Council Performing Arts Tour. In honor of Hispanic Heritage month, he was the soloist for the Opening gala of the Symphony of the Americas in Ft. Lauderdale, Florida. He also appeared as soloist with the Fairfield Symphony Orchestra, James Madison University Symphony Orchestra, Rosario State Philharmonic, National Philharmonic, and Rosario Chamber Orchestra. He has appeared in solo recitals in prestigious series such as, Palm Beach Invitational International Piano Competition, Broward Performing Arts Center in Ft. Lauderdale, Rutgers University Nicholas Music Center, DiCapo Opera Theater (NYC), Temple Square Concert Series in Salt Lake City, and Xavier University Piano Series in Cincinnati.
A consistent prizewinner, he has both participated and won prizes in the Los Angeles Franz Liszt International Piano Competition, International Utah Mozart Festival, Palm Beach Invitational International Piano Competition."
Scholar
"As a music theorist, he has presented papers at the National Conferences of the Semiotic Society of America, at Music Theory Midwest, Music Theory Southeast. Currently he is the executive director of the Semiotic Society of America, where he leads this academic society. His thesis "Semiotic Analysis of Osvaldo Golijov's Musical Setting of the Passion Narrative in La Pasión según San Marcos," received the distinguished research award from the Graduate College of the University of Cincinnati.
At Berea College he teaches courses in Electronic Composition, Music Theory, Piano, and Introduction to Christianity and Global Diversity and Inclusion in the General Studies"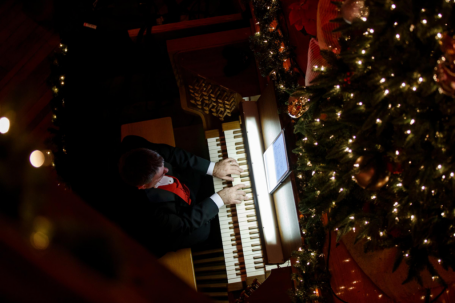 Organist
"As an organist he has presented recitals as soloist, and collaborated with ensembles, among them the world-renowned Empire Brass, where the "An Evening of Organ and Brass Music" was broadcast by WGCU Cincinnati Classical Radio two years in a row. He was a professional organist for 18 years.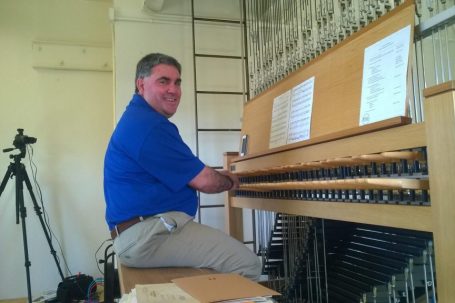 Carillonneur
"At Berea College, Javier was given the privilege to continue the tradition and work of the world renowned composer John Courter. The carillon is name after John and is one of the most beautiful instruments in the United States.